A SONG TO SING ALL OVER THIS LAND
by William Ruhlmann
©1996
page 5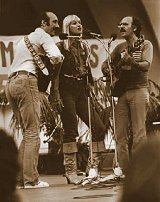 Peter Yarrow continued to organize political events, and one of them led to the reformation of Peter, Paul and Mary. "We needed time apart," said Yarrow. "We needed to redefine who we were individually," Early in 1978, Yarrow was busy putting together Survival Sunday, a benefit concert at the Hollywood Bowl to oppose the spread of nuclear power. "I always was able to do the organizing that I had done in the past by virtue of saying, 'Well, Peter, Paul and Mary are doing it.' and then other people would jump on board," Yarrow said. Already on the bill were many of Yarrow's friends; "Gene McCarthy was there, Cesar Chavez, Mike Farrell, Allard Lowenstein, Robin Williams, Tom Paxton, Sweet Honey in the Rock, George Carlin. It was a lot of folks that I had worked with before, and I needed to draw some 2,500 people. So, I called up Mary and Noel, and I said "I'm doing this, and do you believe in the importance of this?' Of course, this was the first worldwide environmental movement. And they said, 'Yes.' "
"So, we went out there, and it was amazing. It was explosive when we got on-stage, and it was clear, not just that people remembered us, but we felt needed still. From my perspective. I don't think Mary and Noel would say exactly that. But to me, I said, 'Yeah, people still make us feel like we can be useful and helpful and involved in the struggles of today.' And of course, for me, that was always the key to my involvement wit the music because it did more than entertain."
As far as Stookey was concerned, the group came back together through a realization of each member's differences and a willingness to respect those differences. "We really do bring to the group this uniqueness , and it's honored and recognized among the three of us," he said. "It wasn't always. There were some hard times in the late '60's, and then we took the seven years off and came back together again in '78, it was recognizing the point beyond which each of us would not go in terms of sacrificing our personal integrity for the good of the group. That's always a difficult decision."
As announced by Stookey's office on January 31, 1978, in fact, the reunion was to be temporary. A UPI wire story reported that the group would record an album and perform in concert, but they would not stay together after that. Stookey's secretary, Elaine Sutherland, was reported as saying that Peter, Paul and Mary were not going to reform permanently: "It's just for one album."
As if to confirm these plans, Mary Travers released a new solo album, It's In Everyone Of Us, within weeks. The Chrysalis Records LP, accompanied by a single release of "The Air That I Breathe" (the Albert Hammond/Mike Hazelwood song that had been a Top 10 hit for the Hollies four years earlier), was produced by Vini Poncia and featured songs by David Buskin and his performing partner Robin Batteau, Dan Fogelberg, Nils Lofgren and Carole Bayer Sager, writing with Melissa Manchester on one song and Peter Allen on another.
"I think the Chrysalis album was not a great album," Travers said, and record buyers agreed; the album reached #186 in the course of five weeks on the LP charts, while "The Air That I Breathe" got to #42 on the Easy Listening chart.

Travers did a brief tour in the spring, after which she, Yarrow and Stookey were scheduled to fly to the U.K. on June 15 to begin recording their album with Beatles producer George Martin. But that collaboration fell apart at the last minute, and instead the group hastily convened in July with David Rubinson, a San Francisco-based producer whose clients included the Pointer Sisters, Taj Mahal, Phoebe Snow and Patti Labelle. By this time, they were locked into an 18-show tour set to begin the third week in August before 6,500 fans at the Mississippi River Festival at Southern Illinois University in Edwardsville. The album was supposed to be out to coincide with the tour. "It was either don't record and wait six months or record with somebody else," said Travers, "and we went with somebody else, and it was a mistake. That was the first mistake."
The second mistake, related to the first, was the strict schedule that put the group under pressure to produce without giving them the time to get to know each other musically again. "We had come back after an eight-year absence, and we'd all had separate careers, and I think that the album suffered because we didn't know who we were," Travers said. "We thought, 'Oh, God. Eight years had gone by, we should be somebody different,' and it took us a while to settle back down into being who we were."
"See, it got away from us," said Yarrow. "We had a deadline. We recorded the songs, and the basic tracks were very good, but then we walked away from it, and [Rubinson] was unfamiliar with our style of, and predisposition to, a very classical and simple sweetening -- which means the adding of other musical elements after you've done the basic tacks -- and they were very floral and very excessive and overdone to us. [When we heard it,] it was already mixed and sweetened, and we were already over budget, and we couldn't go back on it at that point."
"But some of the songs were wonderful. 'The Unicorn Song' is really wonderful, I think, and 'Sweet Survivor' I'm proud of a s a song, and we still do that song. Basically, it wasn't the intimacy of Peter, Paul and Mary. It was overproduced. It was well-intended, God knows, but where there should have been a combination of energies at that point, there couldn't be because we had to go on tour, and it was one of those crunches that you get in where an album gets away. I think it's our worst album."
"Some day, for our own amusement when Peter goes to remaster that album, for our own use, we will take all the instruments off of it and see if it's the good album we thought it was," said Travers. (Yarrow said that the album had been reissued on CD. The author had been unable to confirm this independently, though Reunion is in print on cassette at least.)
One got a better sense of the group by attending one of their reunion concerts. Backed by a four-piece band containing two keyboard players, and electric bassist and drums, they put on a two hour show, with intermission, containing 24 songs, both old and new.

Reunion was released by Warner Bros. Records on September 5, 1978. Many reviews were unkind, even from people who normally would be expected to be sympathetic to the group. For example, Stephen Holden (a pop critic for The New York Times), writing in Rolling Stone on November 30, began his notice, "It's hard to believe that these folk-pop pioneers could have allowed the release of an album that's unlistenable by even the most basic musical and recording standards," and concluded, "Reunion goes way beyond self-parody. It's a quickie nostalgia rip-off that should have been titled Night Of The Living Dead and issued by National Lampoon." Ouch.
Reunion reached #106 during a seven-week run in the charts. David Buskin's "Best Of Friends" and Bob Dylan's "Forever Young," released as single, failed to chart.
With that a planned live album to have been recorded at Carnegie Hall in December was canceled, Peter, Paul and Mary left Warner Bros. for a second time, and after the tour in September they returned to solo activities. Stookey formed a group called Bodyworks, and Neworld records released the album Band and Bodyworks in 1979. The album was nominated for a Grammy for Best Inspirational Performance, losing on February 23, 1980, to B.J. Thomas's You Gave Me Love (When Nobody Gave Me A Prayer).

By that time, Peter, Paul and Mary had reunited again and were back on tour on what was called a "limited basis," having jettisoned the backup band and returned to their old acoustic format, including longtime acoustic bassist Dick Kniss. They had launched their second reunion tour on January 23, 1980, in Florida. After that, they continued to do a series of dates each year, touring again in the spring of 1981. In October, they recorded a live show in New York for release as an album, even though they were not associated with a label. (They also performed the first of what would be an annual series of Christmas shows in New York in December, backed by the New York Choral Society and an orchestra.) The album, Such Is Love, was first released by Australia's Festival records in the spring of 1982 to coincide with their first Far East tour in 12 years in April. In 1983, it would be released in the U.S. on Peter, Paul and Mary Records.
"At that point, we couldn't get a record deal," said Yarrow. "We were dropped from Warner Bros. because Reunion wasn't successful, and a lot of folk singers didn't have deals at that time, Judy Collins and Joan Baez and other people. They didn't want folk singers anymore. So we made this with [producer] Jim Boyer who had been an associate of Phil Ramone's. It was an in-concert album, and I think it's a very good album. It was important after [Reunion] to go back to basically what we are, which is an acoustic group."
'I think there's a real climb," said Travers. "from that album [Reunion], climbing up to this album [LifeLines]. Each album [has gotten] better in the sense that we now knew how to incorporate who we were as individuals and who we were collectively, from an artistic point of view,"
The album currently is out of print, but not for long. "That has yet to be re-released with a remastered version because I haven't found the original artwork," said Yarrow, "and I think we're going to have to do a high-quality reproduction from one of the actual album covers."

Stookey completed a live album with Bodyworks, Wait'll You Hear This!, which was released on New Pax Records, the successor to Neworld, in June 1982. In the meantime, Yarrow and Travers's political activities continued. Yarrow organized more antinuclear events. In 1983, he and Mary Travers made the first of several trips to El Salvador.
By this time, under the right-wing Republican administration of President Ronald Reagan the U.S. was doing considerable saber-rattling in Central America in a way that reminded many Americans of Vietnam. In Nicaragua, where the government was led by left-leaning Sandinistas, the U.S. was providing covert support to 'Contra" guerrillas in an attempt to topple the regime; in El Salvador, the U.S. was supporting the rightist government against the leftist Marti National Liberation front (FMLN). The Nicaraguan situation was resolved in 1990, when the Sandinistas were defeated in an election; a peace was negotiated between the Salvadoran government and the FMLN in 1991. But throughout the 1980s, both conflicts were the subject of considerable concern in the U.S.
In 1984, New Pax Records released There Is Love: A Noel Paul Stookey Anthology, drawing on his earlier recordings. In 1985, the label released a new Stookey/Bodyworks studio album, State Of The Heart.
Nineteen eighty-five was a year of special shows for Peter, Paul and Mary. On July 13, they appeared at Live Aid, playing for a stadium full of fans in Philadelphia, and 19 days later, they did another benefit to mark the 25th anniversary of the Bitter End, playing before the old brick wall to 200 fans, including John Denver, Joni Mitchell and Tom Paxton, who joined them to sing, "This Land Is Your Land." Proceeds from the show went to Charity Bailey Children's Folk Music Project, named for Travers's childhood music teacher. Later in the summer, Yarrow was the final performer at a show commemorating Folk City, which had closed earlier in the year.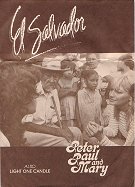 At their 1985 shows, the group was selling a specially produced single for the first time since 1968. It paired two new songs, Stookey's "El Salvador," decrying oppression in El Salvador and Yarrow's "Light One Candle," dedicated to the Sanctuary movement, which sought to provide safety to refugees from Central America, Russian Jews and others.
"It was after we had made our trip to El Salvador and Nicaragua," said Yarrow. "Mary had been down alone, I had been down alone. Noel was yet to go down alone. He'd written the song 'El Salvador.' Interestingly enough, although our point of view at the time was considered anathema to certain groups in America, it ultimately, in short order, became the official policy of the United States. This is not the first time that I've advocated something like an end to the war in Vietnam and found that shortly thereafter that's the way it went.
"After we came back, we were very dedicated to bringing the news, sharing our witness down there with people in the United States and helping to lobby to change the policy, and I remember going down to Washington and singing in a demonstration at the Lincoln Memorial around the issues of Nicaragua and El Salvador. But specifically we were concerned about the sanctuary for those who had escaped from El Salvador because if they were sent back they could be tortured or 'disappeared.' Many people who had been tortured were part of the group that we met while we were down there. The United States was loath to give these people refugee status because it would have meant admitting that the government we were supporting was committing these atrocities., which indeed it was. So, there was a big tug-of-war battle about that, and specifically this [record] of 'El Salvador' with 'Light One Candle' on the back was put out. We had a graphic artist do it pro bono and we put it out, and we sold it at concerts and the money went to the Salvadoran Sanctuary movement effort."
Peter, Paul and Mary celebrated their 25th anniversary as a group in 1986 with a 90-minute TV special, The Peter, Paul and Mary 25th Anniversary Concert, taped at the Tennessee Performing Arts Center in Nashville and broadcast on PBS in March (it was released on video in December 1990), while they appeared in a week-long engagement on Broadway at the Minskoff Theatre, their show called From Bleeker to Broadway. Opening night, Tuesday, March 18, was a benefit for the Coalition for the Homeless. There were eight performances, running through March 24.
These special events came at a time when the group had been without a record contract for more than seven years, and they helped define the direction that their career would go in the next decade. The TV special was particularly notable. It was the first of what are now five PP&M programs, all but one of them made for PBS and used extensively during pledge drives, that would enable the group to help a institution they supported (and which increasingly came under fire) and that would give them ongoing exposure to their long-term core audience. This may not have been a deliberate marketing strategy (their old manager, Albert Grossman, who in any case no longer handles them, passed away in January 1986), but it was as shrewd a move for the group as it was worthwhile to PBS.

In the fall of 1986, newly formed Gold Castle records (distributed by major label PolyGram) released Peter, Paul and Mary's first new studio album in eight years, No Easy Walk To Freedom. The label had been formed by artist manager Danny Goldberg (who today is CEO of Mercury Records). "The major labels were not making deals with the Peter, Paul and Marys and Joan Baezes and Judy Collinses," said Yarrow, citing two other early signees to the new company. "Danny Goldberg had an idea for a label, and he put it together, and we were to be certainly one of his front-runner acts. He was very enthusiastic, his politics were commensurate with our own, and we were very excited about making an album."
No Easy Walk To Freedom, its title track a Peter Yarrow song about apartheid in South Africa, was one of the few albums (the only other one that comes to mind is Michelle Shocked's Short Sharp Shocked) to contain on its cover a photograph of the artists being arrested. The picture was taken on January 8, 1986, at the Embassy of South Africa in Washington, D.C. "It's not only a picture of me, but it is a picture of my youngest daughter and my mother," said Travers, "three generations in handcuffs. Now, that is class."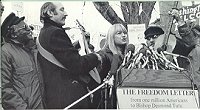 No Easy Walk To Freedom combined many familiar PP&M elements, including trio versions of Yarrow's solo songs "Weave Me The Sunshine," "Greenwood" and "Whispered Words," and of "Greenland Whale Fisheries," once done by the Song Swappers. (A good song can be recorded a bazillion times," said Travers.) Stookey took a comic turn on "Right Field," and was moving on "State Of The Heart," as was Travers on "I'd Rather Be In Love." The title track was quintessential Peter Yarrow, a catchy pop song full of political fervor. And No Easy Walk To Freedom was quintessential Peter, Paul and Mary, their strongest group album since Album 1700.
As the flagship album of a new record company (catalog number 1001), it is a difficult album to date precisely. Cash Box reviewed it on November 8, Billboard not till December 20. But it must have had an official release date prior to September 30, because that was the cutoff date for eligibility for the 1986 Grammy Awards, and it was nominated for Best Contemporary Folk Recording, losing on February 24, 1987, to the various artists LP Tribute To Steve Goodman. Sales then picked up, and the album broke into the Billboard chart on March 14, reaching #173 in the course of five weeks.
During the summer of 1986, Peter, Paul and Mary finally had traveled as a group to El Salvador and Nicaragua, and they took a film crew with them. Investing $85,000 of their own money, they made a one-hour documentary, Heartstrings: Peter, Paul and Mary In Central America, which was first shown at the Global Village Documentary festival in New York in April 1987. It was, said Yarrow, "an advocacy piece challenging the policies of the United States in El Salvador and Nicaragua." It was broadcast on PBS in November.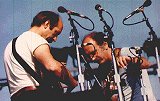 By 1988, the CD reissue boom was in full swing, and with Warner Bros. interested in putting the Peter, Paul and Mary catalog out on CD, Peter Yarrow turned to the task of preparing the albums for the new medium. "It has been a challenging job to do that," he said. "Some of them had to be remixed because what was apparent when I listened to the original three-track tape [was that] the generation loss was so acute from the three-track to a two-track stereo mix that it was the equivalent of 20, 30 generations in today's technology. It was absolutely unbelievable to hear the clarity [in the original three-track tape]. The reason for that is that in those days the record heads were superb, but the playback heads were not. So, even though the information was clear as a bell on the tape, the playback heads would not give you the same character that you had on the tape, and listening to the original three-tracks was astonishing."
"So, I went in and remixed them with Lee Herschberg at Warner Bros. He had special heads that were made for those old machines, which he had put new electronics in. He's a really, really gifted engineer ad electronics person, so that what came off of those three-track tapes was unbelievable. Sometimes what you have to do with the old tapes is bake them, actually. There's a baking process to prevent the oxide from flaking. In this case, it was not necessary because that particular kind of tape that we used, which was, as I remember, Scotch, preserved itself perfectly."
The word "remix" has become a bugaboo to audiophiles and collectors, so the author pressed Yarrow for more details on the differences between the original LPs and the new CDs. Actually, he needed very little encouraging. "This remixing was done really from the same perspective with the same hands and the same ears," he said, "and that is why you can hear with great clarity the difference between -- I mean, you can hear the nuance that you couldn't have heard before in terms of a real crystalline clarity on the voices. Now, we heard it on the original three-track, but we never heard it with the clarity with which we can hear it now."
We went right from the three-track into multi-track digital, and it never left the digital domain thereafter, and, you see, all the warmth was already built into it at that point. So, you didn't have to deal with the kinds of dilemma that people have whereby you have analog mode, or whatever, or, sometimes you mix to analog tape in order to get that richness of sound, once again. There are many things that are done today, for instance, going to 20-bit mastering to smooth out, 'cause the sound that you're listening to is basically a series of yes-and-no decisions, which, if you enlarge in an analog picture, looks like a staircase. And you can refine it so it's tinier and tinier stairs in a wave form, but basically, it's never a smooth curve, it's only hypothetically so, and what happens is that there are harmonics that are developed because of those little steps, and there are other reasons for the existence of harmonic tonalities that are introduced that do not give you the same kind of warmth and richness that you have in the analog circumstance. You have much more noise, of course, and you have the introduction of the sound of the way in which the amplifiers function.
"But also the technology of mastering is very different now, and you have very sophisticated computers that can allow you to do many minute changes. We used to raise it a dB here or there overall. Boy, we're talking about tenths of a dB now! Three-tenths of a dB is a lot of change in mastering, and really, there's just much greater sophistication, You can actually program in a very sophisticated curve to accommodate the idea that you want to hear a broader frequency range. You see, [with the] speakers in the old days, you couldn't hear very much, unless you had very special speakers below, oh, 100 cycles. It just dropped off rapidly. And you couldn't hear much above 7k, it dropped off rapidly. Now, you have speakers [with which] you can tell an enormous difference down at 80 cycles, 60 cycles and even 40 cycles, and your frequencies up to 12k and even beyond will give you that sense of airiness where you can just feel the air.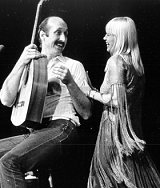 "So, in remastering, there was, from song to song, depending upon the way it was recorded, a lot to do, and it was quite a comprehensive job. The most bizarre thing that happened was on the first album, I'd always wondered why it was that "The Cruel War" seemed slow, and it wasn't quite in tune, and then I found out that what happened was, the original three-track tape was correct, but when we had gone to two-track, the machine to which we were mixing down must have been going too fast. Then, when it was placed on another machine that was going the right speed, it sounded slow. So, the first time you'll ever hear 'The Cruel War' the way we actually sang it, in tune and in the right tempo, is on the remixed and remastered first album, Peter, Paul and Mary."
The most dramatic sound improvement, Yarrow noted, came with Peter, Paul and Mary In Concert. "The remix of the In Concert album really, really made a difference because unlike the studio albums, the engineering on the In Concert album was very different and there was much less of a sense of a present sound," he said. 'I could do a lot to bring it much closer by using top-end, bottom-end equalization and then finding the resonant frequencies in the hall that were kind of standing waves on the stage and dipping them a bit. There's a dramatic difference in the sound of the In Concert album."
Yarrow said the response to the remixed CDs has been very positive. "What I did is, I made an A/B, so I could cut back and forth between the first album as it was on the two-track and the new one, and I sent it to, it must have been 100 radio stations and to various audio magazines , and I've never received such extraordinary, glowing kinds of evaluative reports from everybody," he said. "I think I've gotten two people that said, 'I like it the old way where it's a predominance of midrange, etc.' But I've gotten such extraordinary feedback that I really know that what you're talking about [i.e. the author's concern about remixing] is not destroying what was, but it's like taking the gauze off an old photograph and allowing you to see the real quality. You may have gotten used to seeing it out of focus, but... [laughs]. I know most people don't listen that critically anyhow because if you only hear something on a very sophisticated sound system, you're going to hear one thing, if you listen to it on a little radio that you have next to your bed, you're going to hear something dramatically different. So, there's that range of reality. But people who really want to just feel the texture of sound deeply will very much appreciate, I believe, the dimensionality of the reissued records."
As reissued, the albums contain no bonus tracks, unlike many recent reissues. There are only a couple of Peter, Paul and Mary single tracks that have not turned up on albums, (the string-laden 1966 remake of 'The Cruel War," "Eugene McCarthy for President"), but weren't there outakes that might have been used?
According to Yarrow, very few. Since the group tried its material out live before recording, it had already culled its list of potential tracks by the time of the recording. , resulting in few outtakes. "We generally, with very rare exceptions, [released] a song that we worked on," Yarrow said. "I think in the entire time that we were together, there may have been just fewer than half a dozen of those songs that we tried, for instance, that we made an arrangement of, and it didn't really work out, and we decided not to record it. But if we went in and recorded something, we almost invariably released it."
Beyond this, however, is a philosophical point. Yarrow said; 'There's a certain kind of integrity to it on every level to say, 'This is the work that was. Let's just present it by taking those elements that obscured it off of them. That's the only difference.' " he suggested he would rather consider the question of alternate or outtake material in another context. "That, as an issue in and of itself, is interesting," he said, "but that's like a Biograph boxed set, and there's an appropriate place to do that. But it's like an expanded version of a play or a director's cut. That has its place, and then the other cuts, they're just different entities, and have value independently of one another." The original albums, he suggested, represented too much effort originally to be changed now: "We worked so hard on something that we weren't satisfied with it till we got it right."

In December 1988, the group had another PBS-TV special, A Peter, Paul and Mary Holiday Concert, coincident with the release of their seasonal album, A Holiday Celebration, both video and audio versions recorded live with the New York Choral Society the previous February. In December 1989, they moved their annual holiday show to the Brooks Atkinson Theater on Broadway for a week of performances.
In Love Beyond Our Lives, by Noel Paul Stookey and Bodyworks, was released by Gold Castle in July 1990. A powerful statement of Christian faith in various forms set to contemporary pop music Stookey dubbed "techno-folk," the album mixed songs on a variety of social issues -- "El Salvador,' "All My Life," which considered different view-points surrounding abortion, "Danny's Downs," about a child with Downs Syndrome -- with inspirational songs, concluding with Stookey's "Father's House," an acappella religious autobiography.

In November came Flowers And Stones, a new Peter, Paul and Mary album. The song-writing credits contained many familiar names -- Pete Seeger, Bob Dylan, Tom Paxton -- and many of the titles were familiar to folk fans -- "Golden Vanity," -- "The Last Thing On My Mind," "I Shall Be Released." Though Yarrow contributed "With Your Face To The Wind (Harriet's Song)" and Stookey (with Elizabeth B. Stookey, Paul Julian and Dick Kniss) wrote "The Love In You," and though the albums instrumentation contained reeds, horns and keyboards, Flowers & Stones was a recording in the tradition of Peter, Paul and Mary's first several albums, an anthology of good songwriting old and new, performed in the group's characteristically exhuberant style.
One unusual selection was Dylan's "It Ain't Me, Babe," if only because the trio previously had tended to avoid the songwriter's more vengeful material in favor of his political songs.
"I found a handle to Dylan's 'It Ain't Me, Babe' that hadn't really been explored before," Stookey explained. "I had always construed 'It Ain't Me ,Babe' to be a kind of an 'I am an island, I am a rock,' you remember the Paul Simon attitude, the untouchable iconoclast. But in retrospect, doing the tune as a ballad rather than in a hard-edged denial, I really discovered, I think, what Dylan was originally trying to say, [which] was, 'You're looking for your life, and you're trying to find it in my responses, and I'm not the one that's responsible for your life, you are.' And that took me 25 years to figure that out about that tune."
"It's a more positive interpretation," said the author doubtfully.
"Yeah, oh, yeah. But I honestly feel that that was the real truth of what Dylan was trying to say," Stookey replied. "But as we read about Dylan, we're not even sure that he was aware really of what he was saying."
Just as Peter, Paul and Mary inaugurated Gold Castle with No Easy Walk To Freedom, Flowers and Stones was among the labels last releases. "They owed us a lot of money, and they went bankrupt, but they gave us our albums back," said Travers. "It was the least that they could do. It wasn't managed well. It was undercapitalized."
'It wasn't a major label but we did sell some good numbers for non-major label sales, I think," said Yarrow. "I don't know the numbers, but I suspect that we did between 100,000 and 150,000 on each of those albums." No Easy Walk To Freedom, A Holiday Celebration, and Flowers and Stones have been reissued on Warner Bros Records.
In the "About New York" column in the July 15, 1992 issue of The New York Times, Douglas Martin reported that Peter, Paul and Mary had signed to Warner Bros. to record a new children's album.
"Mo loved the idea of the Peter, Paul and Mommy, Too special," said Travers, referring to Warner's president at the time, Mo Ostin, "and they wanted to build up their children's record department. We were to be a flagship in it, and we loved it, too. Our faith was rewarded by what was to us, one of the most moving performances, or series of performances we have ever done, sharing the legacy of the music with children and showing how the music creates a sense of community. That's the way it was shot, and that's the way it was edited, so that you're not just looking at a performance, You're looking at the creation of a community when you see Peter, Paul and Mommy, Too."

The Peter, Paul and Mommy, Too album was released in March 1993, the same month that PBS broadcast this, the group's fourth television special. 'I think that if you look at Peter, Paul and Mommy, Too, you see that the message there is not just a rollicking good times and bunches of kids' songs," said Yarrow. "Ultimately, those kids are affected, they are moved by the issues, they participate in the affirmation of their own feelings about the content of the songs, they help to create a little microcosmic society that lives at peace with itself for two-and-a-half hours while we do a concert, and something emerges which is very a powerful instruction. Yes, people can get together in a context in which they care about one another and manifest that concern, and that's very clear in the show because you see the children who are getting involved and singing as much as you see Peter, Paul and Mary; it's their show, too. Quite explicitly, Peter, Paul and Mommy, Too is a statement of the legacy shared and involves the children in the creation of a little world that is very much the hope and the dream of the kind of feeling that we might share as our lives proceed."
"We're very excited to be back at Warner Bros.," said Travers, "and they've been absolutely peachy to us in our second reincarnation with them. Or our third." Actually one might say their fourth, since the Peter, Paul and Mommy, Too deal was a one-shot agreement, followed by discussions about a longer term contract that only came to completion in early 1995. "It took us two years to negotiate the contract. It only got signed I think, about six months ago," said Yarrow in August. "It happens all the time. Those contracts are 150 pages. The first contract was probably about eight or ten pages. It's just crazy, contracts these days, and it's not an easy nor a pleasant process to negotiate the contracts."

The more pleasant process was the making of the first album under the contract, LifeLines, which Warner Bros. released on April 11, 1995. On nine of the album's 15 tracks, the trio was joined by guest singers: For anyone who wanted to hear what the group might have sounded like with Dave Van Ronk, he joined them on a medley of "Wanderin' " and "Nobody Knows You When You're Down And Out"; Emmylou Harris dueted with Stookey on "For The Love Of It All"; Travers sang with Holly Near on "Home Is Where The Heart Is," with B.B. King on "House Of The Rising Sun" and with John Gorka on "24 Green Street"; Yarrow and Judy Collins dueted on "Take The Chance"; Carly and Lucy Simon and Richie Havens sang with the trio on "The Great Mandala" (note new spelling); Ramblin' Jack Elliott was heard on "Deportee"; and the surviving Weavers, Pete Seeger, Ronnie Gilbert and Fred Hellerman, made up a sextet on the closing track, "River Of Jordan," which also featured a "river crew" of backup singers including John Sebastian and Tom Paxton.
With Phil Ramone, the fiber-optics fan behind the two Frank Sinatra Duets albums, you might think something of the kind was afoot here, disembodied, long-distance matchups echoing through a virtual soundscape. But in fact, Lifelines is the kind of album the Duets should have been -- recordings pairing compatible performers, singing, face to face, songs that have resonant meaning for them. (Okay, so there were a couple of fiber-optic phone hookups, but at least these people actually knew each other.) When Yarrow sings with Collins or the group with Van Ronk, they are joining their contemporaries; with Elliott and the Weavers, they are acknowledging their mentors; with Harris and Near and Gorka, they are embracing their heirs.
"The new album is legacy," said Yarrow. "It's about family and the family of folk music, starting with our mentors, Pete Seeger, Ronnie Gilbert, Fred Hellerman, formerly of the Weavers, going to our contemporaries like Richie Havens and Judy Collins and Dave Van Ronk and Ramblin' Jack Elliott, etc., and then on to the new singers and songwriters and performers. There was an intermediate group. Like Holly Near and Emmylou Harris that came somewhere between us and the John Gorkas, Sally Fingeretts and Buddy Mondlocks. Buddy, by the way, I met at the Kerrville Folk festival when he was competing." (Sally Fingerett wrote 'Home Is Where The Heart Is," a song about same-sex relationships; Buddy Mondlock's "The Kid" is the albums opening track.)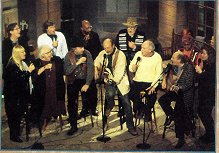 "We're very proud of the fact that it's not a competitive kind of tradition," Yarrow continued. "It's not a legacy that we would disavow and say, 'No, no, we're originals.' The great joy is in being a part of a long train ride that started long before we got on the train, and long after we get off, people will be singing these songs and we'll be part of that music. There's a sense that we're not the beginning or the end of our own lives anymore. You have it a little bit with your kids, but [more] with grandchildren."
Travers used the same metaphor, "We really, I think, feel -- we felt then, and we still feel, and maybe more acutely now -- that it's a train," she said. "You're on a train, there are other people on the train, some people get off before you, some people get on after you, but that there's a sense of continuity and it's a family. I'm very proud of folk musicians in general. I know that every good benefit concert I've ever done, when a call to arms came out, in force came the folk singers. One can be very proud of one's genre, so to speak, one's contemporaries. Almost everybody on that album we knew as friends or we'd marched with or shared the stage at some benefit or another."
The group's familiarity with the guests made the vocal blending on the album easier to achieve than it would have been if they had been coming together for the first time. "We had experimented with that simply by virtue of the fact that we'd sung with people at rallies, we'd sung with people at festivals, and it was always wonderful," said Yarrow. "I've sung with Holly Near personally, down in Washington. I remember Dick Gregory was there, I think at that death penalty thing, and in El Salvador, peace business. God, I've sung at so many events with Richie Havens, whether it's for the women's campaign fund or for an ASCAP event down at Wolf Trap. I've sung with Judy Collins. Noel and I and Judy Collins sang together, I forget which song it was, but it may have been Carnegie Hall when she did her annual [benefit] raising money to fight a certain cancer, and we've sung with Pete and Ronnie before, not with Pete and Ronnie and Fred Hellerman, and we knew that we all just breathed together."
Even some of the performers less associated with folk music have been musical partners in the past. "I was with Emmylou Harris down in Nashville, " Yarrow recalled. "We were doing a record, about 20 of us, getting together to sing on a Bob Gibson album. You know Bob Gibson's got a neurologically degenerative disease. We were all together and singing there." (Gibson suffers from a form of Parkinson's Disease. Yarrow was referring to a recording session on July 25, 1994, for the track "I Hear America Singing," released on the album Makin' A Mess: Bob Gibson Sings Shel Silverstein, which featured in addition to Harris and Yarrow, Paxton, Glenn Yarborough, Oscar Brand, Josh White, Jr., Ed McGurdy, Spanky McFarlane and John Hartford, among others.)

The sessions themselves had an impromptu feel that lends to a sense of spontaneity on the album. "When we recorded, for instance 'Nobody Knows You When You're Down And Out' combined with 'Wanderin',' " said Yarrow , "John Sebastian walked into the studio, so did Dave Van Ronk. We all hugged each other, sat down and started jamming. We did that for about 15-20 minutes. We all decided who was going to sing where. Dave Van Ronk had gotten a tape of us singing the song in concert. We went on mike, we sang it maybe three times, and the second take, I think, was the one, and it was a completely live, exciting recording experience. That's what you hear on the record, with the exception of one line from the next take where he did a repeat line. It just was added to it, and we all agreed that should be done. So, it had all the excitement in the electricity of it, and Dave Van Ronk and I had the delight of realizing how much fun we had singing together. We just enjoy each other enormously."
Not all the songs feature guest stars. One that features only the trio is likely to remind listeners of earlier Peter, Paul and Mary, and, oddly enough, of Jimmy Hendrix, Stookey's "Old Enough (Ode To An Aging Rocker)," is a humorous song very much in the tradition of "I Dig Rock And Roll Music."
"'Old Enough' was really born out of a recognition that folk music goes along forever and that it really doesn't matter if you're 75 years old like Pete Seeger, and you're not dressed in Spandex, and you don't have stage makeup on," said Stookey. "He could sing 'Kisses Sweeter Than Wine,' and you'd still love it, and you could even in fact, identify with a 75-year-old man kissing somebody. However, I'm not sure -- and this was really what propelled the song into being more than anything else -- that Mick Jagger could come out at the age of 75 dressed in Spandex and do '(I Can't Get No) Satisfaction' and have it come off at all."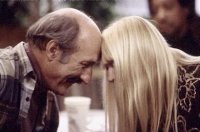 "So, I got to thinking, 'Well, geez, does that mean that rock 'n' roll performers have a finite life?' And then I got to thinking, 'Well, what is their life?' Well, like most musical entertainers, there's this peak of awareness that happens in the public's eye -- a public awareness -- and then, even in those performers who have a sustainability, there is nonetheless the eventual recognition that perhaps their music is now a commentary and not the main point, and how they deal with that. And then I realized that somebody like Jim Morrison, who's been --how many times has he been repackaged? Now, if Jim Morrison were alive, and/or as many of his existing band members could testify, the pictures of them on the cover don't look anything like what they are now."
In the song's opening verse, the aging rocker tells us, "Lately I've been picking up strong vibrations/I hear my music now on oldies stations/'Put out a CD called 'the best of what I was'/My picture's on the cover and no one knows."
"But then, as I was writing this, I recognized the fact that, geez, he's still a family man, you know, he's got kids," Stookey continued, "and now his kids are taking him to the show, and some of the same complaints that his parents had about his music he's now got about their music. He kinda likes it, but he can't understand it at all! If they could only speak more clearly, or it wasn't quite so loud. And then, he's a bit nostalgic, he goes back to his clippings, and he discovers that he can't really read them anymore without his glasses. And after he falls out of favor with the au courant, he discovers that he'll always be in favor or a part of the generation that grew up with him. He may not transcend time, but he certainly is locked into that age group, that generation. And that's why [in the song's final line] he makes the cover of Modern Maturity, which was the suggestion of Phil Ramone, the producer, actually. To recognize the fact that life does go on, and if you are a musician, you play wherever you can. You may not play the Wembley Stadium 20 years after you're fantastic success there. But if you love music, and you love what you're doing, and you still have command of your instrument, then you'll still be playing."

Peter, Paul and Mary's performance of "Old Enough" was one of the highlights of a TV taping that occurred at Sony Studios in New York on January 23 and 24, 1996, when they brought together many of the people who had played and sung on LifeLines, including Van Ronk, Paxton, Havens, Sebastian, Gilbert and Hellerman, for an episode of PBS's Great Performances series.
Combined with footage taped at each of the group members' homes and at the Kerrville Folk Festival, the video LifeLines is the best depiction yet of Peter, Paul and Mary's ongoing legacy, combining old songs and new, veteran and upcoming performers, with the group acting as a bridge to it all. The show began airing on PBS stations around the country during the last weekend of February.
This is the fifth Peter, Paul and Mary TV program on public television, representing a significant participation in the government and viewer-sponsored network. The trio's shows are often used during the pledge weeks individual stations run to raise contributions, and the group's commitment to public television at a time when it's under attack in Congress is notable.
"I'm on the governmental committee at WNET Channel 13 [in the New York metropolitan area]," said Yarrow, "and I have done many, many fund raisers around the country in conjunction with the showing of the Peter, Paul and Mary shows, soliciting $1,000 donations and other donations and generally raising a great deal of money for public TV in doing so. I believe that it's an essential arena for the dialogue of ideas and that must be continued. An informed and educated electorate is the basic premise of a functioning democracy and essential to the proper functioning of that democracy, and commercial television is generally a wasteland in terms of having an intelligent, protracted debate on anything that relates to policy in America."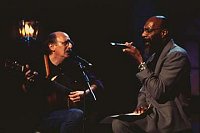 "I mean, there are exceptions, but the place for that kind of debate to take place on television is public television, and that means not just policy debates, but the kind of information that relates to the sensibility of our times, so that politics is not [just] politics, but emanates from people's convictions about the quality of life that they believe we should be able to enjoy in its relationship to what fairness in society is about, how we should support and nurture those people who are the least fortunate of our society, how we look at our responsibilities towards one another, how we acknowledge the primacy of our children and our own future, how we view ourselves as a nation in terms of our place in the world and what our role might be as the purveyors presumably of the principles of freedom and justice and fairness that the United States is supposedly there to represent."
"These kinds of issues can be debated, discussed and reflected on many levels, but we're not just talking about an on-the-nose debate. We're talking about, for instance, the kind of reflection of such issues in folk music, and we would not be able to be where we are and doing what we are today in the same sense with the same scope were it not for PBS. We would not be able to do hour-and-a half shows like the PBS specials that we've been able to do."
We've brought our children up on PBS. We also believe, all of us in one way or another will say this, that the Internet and other high-tech communications systems that have within their capacity the dream of democratizing information will provide a very powerful alternative to commercial television , much of which is the purveyor of a value system that is inimical to what we believe the United States should be all about and much of what simply stagnates the mind because by its very nature you watch it and do not interact with it. But the alternative in the Internet and other systems that are evolving in high-tech communication will, I think, provide a very powerful alternative to the zoned-out eight hours of television watching that the youth of our country is currently being subjected to, or subjecting themselves to."
On March 1, Yarrow embarked on a 12-city tour of PBS stations around the country, appearing in conjunction with the showing of LifeLines to help raise money for public television.
Even with the advance of technology, the essence of Peter, Paul and Mary remains three voices and two guitars in a live setting, and that experience will continue to be available for the foreseeable future. Around the time of the interviews conducted for this article, Richie Havens was playing in an upscale nightclub in New York, and Yarrow was asked if he could picture Peter, Paul and Mary in a similar venue.
"I don't think Peter, Paul and Mary are headed in that direction," he said. "I think that our métier is most appropriately regular concerts, whether they're in [outdoor] sheds or concert halls like Carnegie Hall. There's something special about that. On the other hand, we're probably most comfortable and feel most energized when we're singing for something we believe in, as we did when we were at Kent State, part of the memorial service [in 1995 for the 25th anniversary of the student killings during an anti-war protest in May 1970] where we did a teach-in and then we did a benefit for the memorial students scholarship fund. I think that we will continue that way. We also do like singing with a orchestra. We've done that with the Boston Symphony Orchestra, we've done that with the Hollywood Bowl orchestra, we've done it at Carnegie Hall with an orchestra connected to the New York Choral Society, and that might be something for us to do more of. We'll see," (Peter, Paul and Mary's spring 1996 tour began at the Strand/Capitol Theatre in York, Pennsylvania, on March 13.) [See box for full tour schedule.]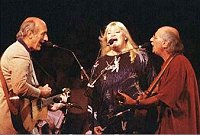 Though they add new songs to their repertoire, they continue to enjoy singing the old ones. "Fortunately, most of the songs that we really have to repetitively sing are songs like 'If I Had A Hammer' or 'Blowin' In The Wind,' 'This Land Is Your Land.' Those are easy ones," Travers said. "There are days when 'Puff' gets a little trying, but then I look down at the first row, and I see somebody's grandchild, and I think, 'All right!' How can I not? But those should be the worst things."
At different points, both Travers and Yarrow have been reported to be at work on books about the group, but none has appeared. Why not?
"We tried that, but it didn't work very well," Yarrow said. "There are different vantage points about what our history was, and we found as we worked on it that we just weren't ready to do it. Sometimes you're ready to do your memoirs, and sometimes you're not."
Asked the same question, Travers answered, "Well, I'll tell you why, and it's so simple. To write about an existing marriage is difficult. I think we all feel that, if we were to write a book, we'd like to be truthful, and of course when you start to write the truth about your past, you discover the true meaning of existentialism. You know, revolutionist history begins at home. And my perceptions of how something happened, and Peter's perception, or Paul's perception, are sometimes radically different and sometimes slightly different. So, we decided that it was easier not to. I think, in any relationship, you tend to accept each other at a certain point. But there's no accommodation when you're writing only as you see it because if you accommodate when you're writing it, usually you're not quite truthful. You've built the accommodation into it.
"But there are things we could write about, and certainly we should do that. I think it would be wonderful to write about meeting John Fitzgerald Kennedy and doing the March On Washington with Dr. King and Selma and Frankfurt, Kentucky, with him and where the music has gone and taken us and how it's made us grow. People say to us, 'Oh, I grew up with your music,' and we often say, soto voce, 'So did we.' Mr. Seeger's legacy was that, if you sing a song, you have to believe in it, you have to live it, and that legacy has taken us all over the world. It's taken us on human rights trips to El Salvador and Nicaragua, it's taken me on a human rights trip to South Korea and the Soviet Union, the old Soviet Union. We've gone to Israel, we've gone all over Europe. We've sung at too many graves, the grave of Andrew Goodman, one of the three boys killed in Mississippi. We sang 'Blowin' In The Wind.' Through our own tears. Very hard to sing and cry at the same time. We've sung the same song over the grave of a family killed by the Contras in Nicaragua. 'If I Had A Hammer' in a political prison in El Salvador. "Where Have All The Flowers Gone' on the floor, I sang it on the floor of an apartment of refusenik jews. We've been recognized -- I was once recognized in the middle of the Sinai Desert! We've had letters from people who've said, 'You know, of course, some of your songs were sung facing the tanks in the Philippines when they overthrew Marcos.'
"We did a concert last year in an inner city school in Los Angeles for refugees. A class of young students, their teacher was Chinese and he had been severely reprimanded when he was teaching in China because he had taught the song 'Blowin' In The Wind' and his political commissar questioned the song because he said, "It doesn't matter how many people die for the revolution.' "
"So, he was chastised and made to apologize publicly and all that nonsense. And there he was, 10 years later, teaching in the United States and sharing his moment with our music with us. You can try. And we do."
"The music has given us courage. I remember singing with Peter facing the National Guard at the Chicago '68 convention, all of us were scared to death. It's given us courage, it's given us great companionship. We've met some incredible people, we've sung songs with Dr. King and sung them again with Bishop Tutu. Nice people like folk music, and usually good politics."
Sounds to us like there's a good book in there. But if not a book, how about a boxed set?
"We're not sure," said Stookey. "But maybe after 50 years together. We're up to 35 now, so it's not that far away. And I suppose, really, we'll be active in one form or another for the next -- I mean-- we've loosely agreed that, while the number of performances might dwindle, that we would still be available for those things that we believe in, and that might mean, who knows?"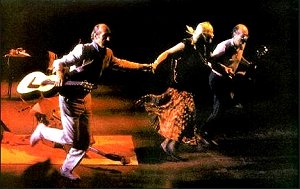 ****
The author would like to thank David Fenichell, Marge and Russ Guenther, Randy Hecht, Alisse Kingsley, Lydia Sherwood, Stacy Smith, Noel Stookey, Jeff Tamarkin, Mary Travers and, especially, Peter Yarrow for their help in the preparation of this article.