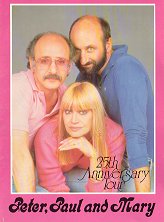 Peter, Paul & Mary
25th Anniversary
TOUR PROGRAM

In the past three years, Peter Yarrow, Noel Paul Stookey and Mary Travers individually and together performed at more than 300 benefits, traveled to El Salvador, Nicaragua, South Korea, Israel, and the Soviet Union to witness for peace, democracy and human rights, raised more than $500,000 for 30 senate, house and local candidates, paid a lot of attention to the seven children they have among them and founded the Charity Bailey Folk Music Project.
They were average, run-of-the-movement years for Peter, Paul and Mary. And in the same 36 months, the trio managed to bring their magic harmony and hope-filled lyrics to more than 6000 fans at 15 concert dates in the U.S., Australia, Japan, and Europe.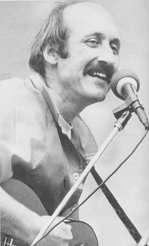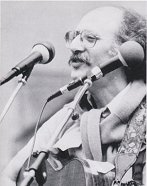 Peter, Paul and Mary have been at such a pace for 25 years, ever since they vaulted out of the coffeehouses of Greenwich Village in 1961 and onto a stage that has stretched from a platform of coffins at St. Judes just outside Montgomery to the Royal Albert Concert Hall in London to the dank floors of jails in Central America.
Musically, they've turned the lonely trails of peace and protest first blazed by Woodie Guthrie and Peter Seeger into highways for the masses. Popularizing traditional as well as topical folk music with the millions of records they've sold, among them eight gold singles and six platinum albums.
Introducing the words and music of struggling young artists like John Denver, bob Dylan and Gordon Lightfoot to a world too often too busy too listen to the truth. Providing a generation of adults with unforgettable camp songs.
Socially, they've stretched our collective conscience by stretching theirs, testifying for human rights and social justice wit their bodies as well as their voices. Standing uup to hoses and horses in Montgomery, bayonets in Chicago, the slurs of anti-ERA agitators in New York and to government thugs in Seoul. Kneeling with refugees and political prisoners in blood-spattered countries around the world.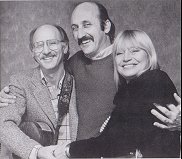 Politically they've shown a commitment to the democratic electoral process unlike any other entertainers in memory, throwing themselves and their reputations into every presidential contest since they began singing together. Pulling crowds and contributions into the campaigns of hundreds of congressional, gubernatorial, mayoral and local candidates. Boosting candidates unknown, black, female and liberal; often winning but seldom making it a requirement.
They've been consistent in their commitment, in the good years and the bad, from the "we" decade of the 60's to the "me" decade of the 70's to the renewal of spirit that is beginning to characterize the 80's. And in addition they've organized and inspired hundreds of other entertainers to donate time, money and talent to the causes and the candidates that have helped change our country.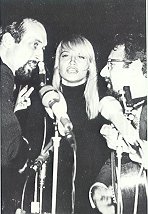 Through it all, from a giant birthday party for a young President who was not to have another to the funerals of Andrew Goodman and Allard Lowenstein, they've continued to bring us messages of optimism, and faith in the human spirit. One of their first hits, "Blowin' In The Wind", helped us believe there is indeed an answer; their latest song, "No Easy Walk To Freedom", urges our chins high with the words, "Glory hallelujah, gonna make it this time".
In a world of takers, Peter, Paul and Mary have been givers. At a monetary sacrifice greater than most of us would ever expect; at an emotional price many of us are all too familiar with. And often without even a simple thank-you-note from those they have helped.
Twenty-five years. For some of us, literally a lifetime. For others a long and tiring bridge between the inexhaustible energy of youth and the inescapable fatigue of middle age. But for Peter, Paul and Mary, 25 years is just a quick start in a superb race they continue to run, never seeming to tire, never even for moment, looking backward.
It has been suggested that had their music been attributed upon original release to Marvin, Gerald and Phyllis , it may very well have sunk without a trace. For part of the initial charm of Peter, Paul and Mary was their disarming simplicity. Dressed conservatively, they applied the orthodox vocal/musical style of the Weavers and The Kingston Trio to traditional favourites, spicing the brew with carefully selected fresh material from other young emerging folkies. Sincere and earnest, their starkly pure harmonies sweetened the air of a world in the throes of acute pessimism. "We came from the folk tradition in a contemporary form, where there was concern that idealism be part of your music and the music a part of your life.

Peter, Paul and Mary began rehearsals in Mary's apartment in May 1961, gradually merging their singular identities into a united voice. A round of New York performances was exceedingly well received and it was at their very last Village date, at The Bitter End, that Warner Bros' Mike Maitland spotted them. Their first, self-titled, album was a deft collection of Pete Seeger, Dave Van Ronk, Reverend Gary Davis, and Yarrow/Stookey songs in an uncluttered, exuberant and highly commercial folk mould. By the time Lemon Tree was peaking at #35 on the American charts, the massive public popularity level, facilitated by six shows a week for six solid months. Their success spread to foreign shores and the played to capacity houses in London and Paris. The album soom moved past the one million point in sales.
If I Had A Hammer, a second single from the first album, hit top ten in October 1962. Moving, the mostly original second album, turned out three more hit singles, including the classic Puff (The Magic Dragon), which made it to #2 in May. By this point Peter, Paul and Mary were unrivalled as the world's number one folk act, As Peter told the Saturday Evening Post, "Our purpose is to affirm."
By mid 1963, the same New York club circuit that had produced the trio, was being well shaken by an enigmatic singer/songwriter from the backwoods of Minnesota. Albert Grossman added Bob Dylan to his management stable and the cynical balladeer contributed three songs and priceless liner notes to the third PP&M album In The Wind. The association was sublimely productive - Dylan gave the group sharp relevant songs and the group thrust Dylan under the gaze of the mass audience that had eluded him. Blowin' In The Wind returned PP&M to the #2 spot in August 1963 and won them a Grammy, It also elevated them as prime drawcard at Peace and Freedom rallies, culminating with their thunderous reception beneath the Washington Monument, as part of Martin Luther King's 1963 March On Washington.
During 1964 they toured incessantly, their schedule taking in Australia. Warners recorded five American performances for the million-selling In Concert double album, which featured Dylan's The Times They Are A-Changin' and the live A'Soalin'. These performances showcased the extraordinary level of warmth, participation and genuine joy which the three expert entertainers were able to generate on both sides of the footlights.

Over the next three years, Peter, Paul and Mary consolidated their popularity, recording three more albums (A Song Will Rise, See What Tomorrow Brings, and Album) and two more Australasian tours. They moved well beyond the acoustic simplicity of their early work, recruiting such session players as Mike Bloomfield, Al Kooper, Pete Childs, Charlie McCoy, Mark Naftalin, Paul Butterfield, Kenny Buttrey. The trio was held in high regard by many 'hip' American bands of the time, and also by the Rolling Stones (particularly Brian Jones) and The Beatles, who referred to them as Pizza, Pooh and Magpie.
While most of their peers from the folk era outlived their usefulness and were ground into the dust of the rock stampede of the middle sixties, Peter, Paul and Mary forged ahead musically. 1967's Album 1700, recorded with the aid of Paul Butterfield, The Paupers, and members of the Electric Flag, was startling state-of-the-(West Coast)-art. I Dig Rock And Roll Music, their fifth top ten smash, referred lyrically to The Mamas & The Papas and musically to The Lovin' Spoonful, Simon & Garfunkel and Johnny Rivers. More than two years later, a track form the album written by John Denver proved so durable that it gave the group their only American number one hit - Leaving On A Jet Plane. Although it became one of the three biggest singles in Warner history, it proved to be their final U.S. chart entry for almost a decade.
Most of 1968 was consumed with the tour demands which had followed their new contemporary identity. Their stage craft was finely honed, with the individual characters of the three emerging to texture and colour their performances. The Late Again album saw a continuation of the trio's strong bond with Bob Dylan, via I Shall Be Released and Too Much Of Nothing. This was but one example of the trio's capacity for deft song selection. On their earl albums they paid appropriate homage to the pioneers of folk music by recording songs from The Weaver's (Wasn't That A Time? Kisses Sweeter Than Wine, If I Had A Hammer, Man Come Into Egypt, etc.), Woody Guthrie, Will Holt, Ewan MacColl, and others. At the same time, they covered the best works of the new wave of folk performers - Tom Paxton, Gordon Lightfoot, Tim Hardin, Mike Settle, Dave Van Ronk, Hamilton Camp, Bob Gibson, Fred Neil, John Denver, Laura Nyro, Eric Andersen and Australian Gary Shearston among them. By the time they would get back together in the late seventies their adventurous tentacles would be groping far afield from folk music. Equally adept at handling pop. they them delivered unique performances of material by the likes of Billy Joel and Mann & Weil.

The extraordinary troubadours left us with a final vinyl offering that reminded us of their great love and concern for the young. The Peter Paul and Mommy album drew together their most enduring children's songs, giving new life to Tom Paxton's Marvelous Toy and Puff (The Magic Dragon). Featuring participation from The Nursery School of Westchester Ethical Society, the tracks shone with a positive aura that renders the album timeless.
"When we found out that we no longer wanted to say the same things with our music, we agreed to go our separate ways," explains Peter. Mary adds, "I never liked the term 'breakup'. That implies something to me like a marriage that didn't work out. I like to say that the group retired, or stopped touring, We remained friends."
The first ten years resulted in five platinum and eight gold album awards and a legacy of 119 superb tracks - all of which exemplified musical integrity and plain good taste.
Throughout the seventies, Peter Yarrow, Noel Paul Stookey, and Mary Travers maintained a high recorded profile, with a string of solo albums and production efforts. In October 1971 Paul charted internationally with the delicate, sensitive Wedding Song, which had been inspired by Peter's marriage. An active Christian, he formed Neworld Media which issued his warm, spiritual solo albums after his departure from Warner Bros. One of music's most natural and delightful performers, Paul chose to hit the concert hall regularly and has built up devoted legions of fans in many countries. He now lives on the Maine coast with his wife Betty, his three daughters and his own recording studio. His production efforts include two albums for the Paul Winter Consort.
Peter, perhaps the most accomplished songwriter of the three, busied himself with writing, record production and film/television work. In 1968 he had enjoyed considerable acclaim for his production of the psychedelic cult feature film You Are What You Eat (featuring the Electric Flag, Tiny Tim, Barry McGuire, Harpers Bizarre, John Simon and Peter himself). After the split, Peter developed his production skills, working with Jericho Harp, Lazarus and P.R. Battle. In 1976 he co-produced the #1 American hit for Mary McGregor, Torn Between Two Lovers. Living in Malibu with his wife Mary Beth and two children, Peter has remained extremely active in music. He was a guest vocalist on the Burt Bacharach album Futures and produced an animated series based upon Puff (The Magic Dragon) for CBS Television.
Mary who lives in New York with her daughters Erika and Alicia, recorded five solo albums, undertook her own syndicated radio show (Mary Travers and Friend - the first episode of which featured a chat with Bob Dylan), hit the college lecture circuit ("Society And It's Affect On Music"), performed solo and with symphony orchestras, and continued her myraid social/political activities. She has recently become a grandmother.
Apart from a reunion at a 1972 George McGovern benefit concert, the three resisted the urge to take the stage together for some eight years. When they did get together early in 1978 for a Nuclear Disarmament benefit a reunion album and tour was mutually agreed upon. They made it into studios in New York and San Francisco in July 1978 to cut Reunion which, in a nod to past tradition, included a Dylan song (Forever Young). a little thicker and more worldly, the sound was still unmistakably Peter, Paul and Mary. Best Of Friends and Like The First Time eloquently stated their position.
A rapturously received tour kicked off in August. In Chicago a critic observed: "When they blend together it is still pure and overwhelming. Had the crowd's heart grown any fuller there would have been a danger of a collective coronary thrombosis."
They reached Australia in March 1982 and played to sold-out houses in four cities. Down Under audiences were enraptured by the tangible bond of love, respect and trust which emanated from the stage each night. "I noticed the joy of singing against these two," said Mary. "All of a sudden there was an emphatic feeling, not necessarily looking at Peter and Paul but feeling them vocally, our vocal parts meshing into one. It was wonderful and sensuous; restricted yet free."
"It's a concern, wanting your music not to be schizophrenic. The music becomes an extension of your caring and your soul. There's no schism between what you do on stage and what you are. What we're trying for is a kind of health, and that's what we were always trying for. If Paul explores it vis-à-vis a Christian experience, and Peter can express it vis-à-vis a political activist position, it's all the same... We're honest. We're not concerned with anticipating the demands of the public. We seem to come alive in the stage and give true expressions of ourselves."
To coincide with the 1982 Australian tour, a second 'reunion' album, Such Is Love, was issued by Festival Records, and was a solid seller in Australia and Japan. Particularly touching was the rendition of the haunting There But For Fortune by the late Phil Ochs and a remake of Stewball - further links to their own heritage and history. On the eve of Australian tour number seven, a third 'reunion' album has been readied for 1986 release. In the interim, an independent single, El Slavador/Light One Candle, has been made available to the faithful. And indeed there are many.

PETER YARROW

Peter Yarrow is a songwriter, a musician, and artist, a film producer and a singer. But if you asked him who he is, he'd probably answer he's a dedicated and loving father first... and then an organizer.
Peter was a disenchanted art student at Cornell when he began developing his approach to folk music in the artistic incubator that was Greenwich Village in the late 1950's. While playing as a single at the Cafe Wha?, he frequently dropped in on Noel Stookey's act in a nearby club. Mary he spotted first in a picture on a bookstore wall.
If there has been a political director for Peter, Paul and Mary, it has been Yarrow. His songs have made a unique contribution to what Pete Seeger calls "the folk process" and his commitment to social change has helped the trio's social activism.
Peter, Paul and Mary were there for the important events for the 1960's and 1970's , but Peter has been more than just a performer. He helped conceive and orchestrate many of the events and persuaded other entertainers to lend themselves to the causes. He was a key advisor to the campaign of Eugene McCarthy and has been a valued insider in a dozen successful efforts by Democratic politicians.
Today Peter lives in New York City with daughter Bethany and son Christopher.

NOEL PAUL STOOKEY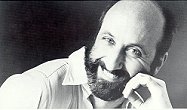 Most fans of Peter, Paul and Mary know Noel Stookey as the wacky cutup of the group, the showman whose humour, mellow baritone and hot guitar licks mean so much to the trio's ability to captivate and involve an audience. Noel is indeed all those things, but he's much more.
When he arrived in Greenwich Village in the late 1950's, Noel was a rock musician grown tired of the midwest and infatuated with folk sound and the folk scene. He was soon entrenched as a stand-up comedian and singer at the Gaslight across the street from Mary Traver's home and just a few steps from the Cafe Wha? where Peter Yarrow was drawing crowds and where Lou Gossett, Jr., until he got his big dramatic break in an off-Broadway play called "The Blacks", was playing conga drums.
Performers from those heady days remember Noel's music. But they also remember him as the first unofficial, the the official union rep for all of them, a man who spent as much time helping solve the problems of others as he spent playing and singing.
In 1968, Noel underwent a fundamentalist religious conversion and today his life centers around the "perfect love" he had found. Twelve years ago, he moved his family to the coast of Maine, converted and old henhouse into a home and recording studio and began performing and producing Christian music with his "Bodyworks Band".
When he's not cutting up with Peter and Mary in 50 concert dates a year, Noel can be found at home, cutting up with his high-school-sweetheart wife, Betty, and daughters Anna, Kate and Liz.

MARY TRAVERS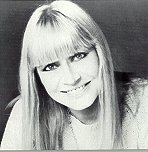 Mary Travers didn't have to travel far for her rendezvous with the guys one writer described as "two cellos playing with an angel" - she grew up in the Village, the child of two muckraking journalists who had her marching in demonstrations as soon as she could walk.
Performers such as Carly Simon, Woody Allen, Peter Yarrow, Noel Stookey, Bill Cosby, John Denver and Bob Dylan were already part of the Greenwich explosion when high-schooler Mary Travers began hanging around coffeehouses for the singalongs. She got her first show business break when she auditioned for and won a part in a Mort Sahl Broadway play called "The Next President".
Fortunately for all of us, the play folded after a week and it wasn't long until Mary became a backup singer for groups like The Weavers and caught the attention of Albert Grossman, the man who brought Peter, Paul and Mary together and shepherded their career through the beginning years.
Mary's consuming passions are her daughters, Alicia and Erika, and her new granddaughter. Her consuming activist commitment is human rights, and she serves on the Board of Directors of the Center for Development Policy, a Washington-based advocacy group which is trying to redirect U.S. foreign policy. She has journeyed to El Salvador and Nicaragua in support of the Center's work, as well as to Russia in support of Soviet Jewry. She was a member of the delegation of prominent Americans who accompanied Kim Dae Jung on his return to Korea in 1985.
An inveterate New Yorker who calls herself "a closet anti-Californian", Mary now lives with her daughter Alicia in Manhattan, just a few steps from Carnegie Hall.