Video Released: 1986
Rhino Home Video, Catalog # RNVD 1950

DVD Release: July 2011
SHOUT Factory
Such Is Love - I'm In Love With A Big Blue Frog
Puff The Magic Dragon - Right Field
Where Have All The Flowers Gone? - El Salvador
Like The First Time - Kisses Sweeter Than Wine
Wedding Song - Weave Me The Sunshine - Greenwood
Light One Candle - Leaving On A Jet Plane
If I Had A Hammer - Greenland Whale Fisheries - Power
Blowin' In The Wind - This Land Is Your Land- Goodnight, Irene

Video Released: 1988
Rhino Home Video, Catalog # RNVD 1951

DVD Release: October 18, 2011
SHOUT Factory
We Wish You A Merry Christmas - A Soalin'
I Wonder As I Wander - O Come O Come Emmanuel -
The Magi - Children Go Where I Send Thee
Twas The Night Before Christmas - The Friendly Beasts - Hayo, Haya
Light One Candle - Weave Me The Sunshine - Marvelous Toy -
The Cherry Tree Carol - Puff - Blowin' In The Wind
This Land Is Your Land - O Come All Ye Faithful - Silent Night
Hallelujah Chorus - We Wish You A Merry Christmas

Video Released: 1993
Warner Reprise Video, Catalog # 38339-3
Puff The Magic Dragon -The Fox
Somagwaza/Hey, Motswala - Inside - Day Is Done-
Garden Song-The Eddystone Light -
I Know An Old Lady Who Swallowed A Fly-
Somos El Barco - Pastures Of Plenty-
Home On The Range/Don't Ever Take Away My Freedom-All Mixed Up - Right Field -
Poem For Erika/For Baby-We Shall Overcome -
It's Raining - If I Had A Hammer-Blowin' In The Wind - This Land Is Your Land

Video Released: 1996
by Warner Reprise Video, Catalog # 38410-3
Babylon/Oh Sinner Man
Wanderin'/Nobody Knows You When You're Down And Out
75 Septembers - Deportee
The Times They Are A' Changin'
Old Enough - Home Is Where The Heart Is
The Great Mandella (The Wheel Of Life) - Stewball
For The Love Of It All - Virtual Party - House Of The Rising Sun
Freedom Melody -The Kid - Sweet Survivor - River Of Jordan

DVD Released: 2004
by Rhino Home Video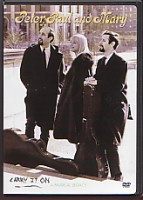 There was a time, some years before the ascendance of rock 'n roll on Top 40 radio, when popular music veered sharply from the mainstream to sample American roots-music traditions. Inspired by the songs of Pete Seeger and The Weavers, this "folk" music found its greatest expression during the early 1960s in the songs of an emerging Greenwich Village folk group known as Peter, Paul and Mary.
In the Trio's new PBS show, Carry It On, they recall, along with mentors Pete Seeger and Ronnie Gilbert and others, the beginnings of the cultural revolution of the 1960s, when music became a unifying force amidst the hopeful, idealistic, and sometimes turbulent movements of social change.
The trio's Carry It On: A Musical Legacy features rare archival performances of songs which energized the spirit of the nation's cultural and political renaissance. They include "Blowin' In The Wind" from the 1963 March On Washington, where Dr. Martin Luther King Jr. delivered his legendary "I Have a Dream" speech, and "The Times They Are A'Changin'" sung at the Newport Folk Festival. These and other historic moments are woven together with songs and clips from the Trio's four highly acclaimed PBS specials as well as intimate rehearsal renditions of new songs from their new album, In These Times, the Trio's first such release in a decade.
Do Peter, Paul and Mary still carry it on? No question! Just watch and listen.

FEATURED SONGS:
It's Magic- New Performance (2003)
Mary Had a Little Lamb -New Performance (2003)
Lemon Tree- "International Cafe " clip (1962)
If I Had a Hammer- Newport Folk Festival (1964)
Jane, Jane- Andy Williams Show (1966)
Blowin' in the Wind- March on Washington (1963)
The Times They Are a Changin'- Newport Folk festival (1964)
When the Ship Comes In - Vietnam War Moratorium (1969)
I Dig Rock n; Roll Music - The Jonathan Winters Show (1969)
Like the First Time- PBS, 25th anniversary (1986)
The Wedding Song- PBS, 25th anniversary (1986)
Leavin' on a Jet Plane- PBS, 25th anniversary (1986)
El Salvador- PBS, 25th anniversary (1986), Hearstrings (filmed in 1983)
Light One Candle- PBS, Holiday Concert (1988)
Puff, the Magic Dragon- PBS, Peter, Paul and Mommy, Too (1993)
I Know an Old Lady (Who Swallowed a Fly)- PBS, Peter, Paul and Mommy, Too (1993)
We Shall Overcome - PBS, Peter, Paul and Mommy, Too (1993)
This Land Is Your Land- PBS, Peter, Paul and Mommy, Too (1993)
For Baby (For Bobbie)- PBS, Peter, Paul and Mommy, Too (1993)
River of Jordan - PBS, LifeLines Live (1996)
The Great Mandala - with Richie Havens- PBS, LifeLines Live (1996)
Nobody Knows You When You're Down and out with Dave Van Ronk - PBS, LifeLines Live (1996)
Invisible People - Studio Performance (2003)
All God's Critters - Studio Performance (2003)
Don't Laugh at Me - Studio Performance (2003)
Jesus Is on the Wire -New Performance (2003)
If I Had a Hammer - montage (various years)
Freight Train - ending credits

DVD Released: 2014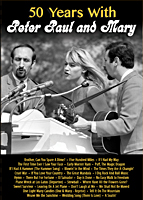 When we first sat down to sing...
there was magic in the air. Each time we switched leads, our voices came to life with new and wonderful textures and coloration... We called Albert Grossman, Peter's manager at the time. Breathlessly we told him, "This is it."
50 Years with Peter Paul and Mary examines the era of the group's emergence in Greenwich Village... through the Civil rights and Anti-War years where their anthems contributed to America's soundtrack of social and political change...and into the 21st century where their legacy and music continues to inform, inspire and enrich successive generations. This DVD, produced and directed by four-time Emmy award winner Jim Brown, contains memorable performances interwoven with voice-over insights provided by Peter yarrow, Noel Paul Stookey and the late Mary Travers culled from hundreds of hours of radio and television interviews in an 80 minute performance-based documentary that celebrated the impact of this preeminent trio that inspired America though its music and its advocates.
We sang to the audience, of course but, just as frequently on stage, we sang to each other. Each night, songs varied in their nuanced meanings and the way they were delivered. Each concert was a series of improvisational surprises. we could sense the audience enthusiastically joining us in these explorations...
Providing a first-ever, far more intimate and comprehensive look at Peter Paul and Mary than former PBS specials that, wonderful though they were, only began when the group was in its 25th year, many of the rare, previously unseen early performances on this disc have never been televised in the United Sates. Rare BBC TV footage shows the group at the peak of their early artistry, in 1963, during their most popular and influential period when the trio dominated the charts (with all three of their first recordings simultaneously in the Top Ten of Best Selling Albums).
We had traveled incessantly for 10 years, and our 1969 schedule had been packed with more than 200 concerts in five countries, as well as the recording and promoting of two albums. Peter Paul and Mary had become a compacted bundle of overwhelming commitments that did not allow enough time and space to accommodate our work as members of the trio and our ives as individual artists with family responsibilities.
An impressive combimation of still photographs, new and rediscovered documentary videos capture Peter Paul and Mary during their 'time off for good behavior' (1970-1978), and following their reunion, for the nextthree decades as they perform 60 concerts a year around the world - inspiring audiences, recording new CD's, introducing new singer-songwriters - continuing to advocate for justice, equality and peace.
We wanted to sing songs of substance. we always felt that our actions had to have worth to be worth doing. we wanted to work together enough to have it be a meaningful part f our lives, but not so much that it wouldn't be fun. The new schedule was much more balanced, allowing us to concertize and make records, while also giving us time to pursue personal projects and spend essential and much needed time with our families.
During the last few years of the group's career, Mary became increasingly challenged by illnesses, and on September 16th, 2009 she passed away. we are honored to share on this DVD the exclusive video of her moving and inspiring memorial service featuring among the speakers and performers, Bill Moyers, former Senator George McGovern, and Whoopi Goldberg. Former Senator and current Secretary of State John Kerry noted at the occasion, "If Mary were here, she would say 'This crowd looks like a reunion of Nixon's enemy list!'"
Perhaps it's not the number of events but rather the quality of the moments we share that are truly remembered. and, maybe the most meaningful message we leave behind id ultimately not the specifics of the cause, the date of the rally, or the number of people in attendance. Maybe it's about recognizing the spirit of goodness in us all... the caring for the least of us... and the work that is - as Mary was wont to say -'to be continued...'

FEATURED SONGS:

Brother Can You Spare A Dime?
Five Hundred Miles
If I Had My Way
The First Time Ever I Saw Your Face
Early Mornin' Rain
Puff, The Magic Dragon
If I Had a Hammer (The Hammer Song)
Blowin' In The Wind
The Times They Are A-Changin'
Cruel War
If You Love Your Country
The Great Mandala
I Dig Rock And Roll Music
Hymn
There But For Fortune
El Salvador
Day Is Done
No Easy Walk To Freedom
Plane Wreck At Los Gatos (Deportee)
Stewball
Where Have Al The Flowers Gone?
Sweet Survivor
Leaving On A Jet Plane
Don't Laugh At Me
We Shall Not Be Moved
One Light Many Candles (One & Many - Reprise)
Tell It On The Mountain
Weave Me The Sunshine
Wedding Song (There Is Love)
A Soalin'