Updated December 5, 2014



Check your local PBS Station for air times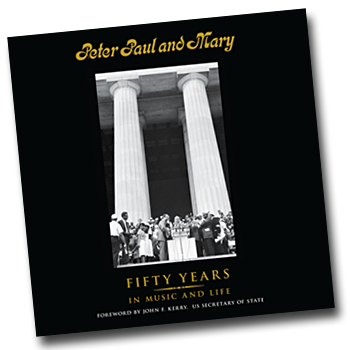 Updated December 5, 2014
Event Dates for
Peter Paul and Mary
50 Years in Music and Life



Tuesday, November 4th – Ridgefield, CT
7:00 pm
Peter Yarrow & Noel Paul Stookey

Sponsored by: Books On The Common
held at: Ridgefield Public Library
472 Main Street, Ridgefield CT
click here for information

Wednesday, November 5th – Boonton, NJ
7:00 pm
Peter Yarrow & Noel Paul Stookey

Bobby's News & Gifts
521 Main Street, Boonton, NJ
click here for information

Thursday, November 6th – Kingston, NY
7:00 pm
Peter Yarrow & Noel Paul Stookey

Barnes & Noble
1177 Ulster Avenue, Ulster Plaza Kingston, NY
click here for information

Monday, November 10th – Doylestown, PA


6:00 pm
Peter Yarrow

The Doylestown Book Shop
16 S. Main Street, Doylestown, PA
click here for information

Tuesday, November 11th – Santa Monica, CA


6:30 pm
Peter Yarrow

Diesel, A Bookstore
225 26th St, Santa Monica, CA
click here for information

Wednesday, November 12th – Los Angeles, CA


7:30 pm
Peter Yarrow & Noel Paul Stookey

Skylight Books
1818 N Vermont Ave, Los Angeles, CA
click here for information

Thursday, November 13th – Los Angeles, CA


8:00 pm
Peter Yarrow & Noel Paul Stookey

The Grammy Museum
800 W. Olympic Blvd, Los Angeles, CA
click here for information



Saturday, November 15th – New Orleans, LA


3:00 pm
Peter Yarrow

New Orleans Book Festival
City Park, 1 Palm Dr. New Orleans, LA
click here for information

Tuesday, November 18th – Millerton, NY


7:00 pm
Peter Yarrow

Sponsored by: Oblong Books
held at: Morton Memorial Library
82 Kelly St. Rhinecliff, NY
click here for information

Saturday, November 22nd – Union Square, NYC


7:00 pm
Peter Yarrow

Barnes & Noble
33 E. 17th Street, NY
click here for information

Monday, November 24th – Manchester Center, VT


6:00 pm
Peter Yarrow & Noel Paul Stookey

Northshire Books
4869 Main Street, Manchester Center, VT
click here for information

Tuesday, November 25th – Saratoga Springs, NY


7:00 pm
Peter Yarrow

Northshire Books
424 Broadway, Saratoga Springs, NY
click here for information

Tuesday, December 2nd – Ridgewood, NJ
6:00 pm
Peter Yarrow

Bookends
211 E. Ridgewood Ave, Ridgewood, NJ
click here for information

Wednesday, December 3rd – Huntington, NY
7:30 pm
Peter Yarrow

Cinema Arts Center
423 Park Ave, Huntington, NY
click here for information

Saturday, December 6th – Cedar Rapids, IA
4:00 pm
Peter Yarrow

Barnes & Noble
333 Collins Rd, NE, Bldg 1, Northland Square, Cedar Rapids, IA
click here for information

Sunday, December 7th – Minneapolis, MN


4:00 pm
Peter Yarrow

Magers & Quinn
3038 Hennepin Avenue, Minneapolis, MN
click here for information

Thursday, December 11th – Cambridge, MA


7:00 pm
Peter Yarrow & Noel Paul Stookey

Porter's Square Books
25 White Street, Cambridge, MA
click here for information

Friday, December 12th – Concord, NH


6:00 pm
Peter Yarrow & Noel Paul Stookey

Gibson's Bookstore
45 S. Main Street, Concord, NH
click here for information

new!
Sunday, December 14th – Los Angeles, CA
12:30 pm
Peter Yarrow

Chevalier's Books
126 N. Larchmont Blvd, Los Angeles, CA
click here for information

Monday, December 15th – Boulder, CO
7:30 pm
Peter Yarrow

Boulder Bookstore
event takes place at the First Congregational Church
1128 Pine St, Boulder, CO
click here for information
July 12, 2014
Coming November 4th, 2014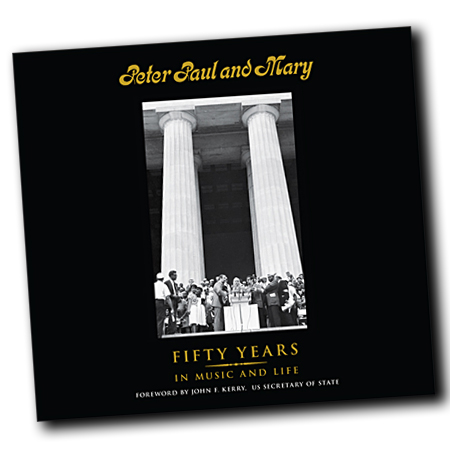 50 Years in Music and Life
By Peter Yarrow, Noel (Paul) Stookey, and Mary Travers
Introduction by John F. Kerry, US Secretary of State
Finally . . . here is the first and only book that visually tells us the intimate story of Peter, Paul, and Mary and their music, with stirring images that follow their passionate fifty-year journey to the center of America's heart. The very best of thousands of photographs, many rare and never before published, taken over five decades by some of the world's top photographers, show them at their earliest performances in the 1960s, when Mary was the most desired, beautiful, and charismatic performer and a new role model for women. Follow the trio as they lead America to discover the passionate soul of folk music. Join the struggle for racial equality, social justice, and freedom in this memorable journey, from the historic 1963 March on Washington with Martin Luther King, Jr., to the trio's appearance before half a million people in 1969 to end the Vietnam War, to their singing at the Hollywood Bowl for Survival Sunday in 1978, helping to launch the antinuke movement, the world's first international environmental movement.
.... Click here for the rest of the information.
Available from Barnes and Noble: click here!
or the bookseller of your choice
January 15, 2014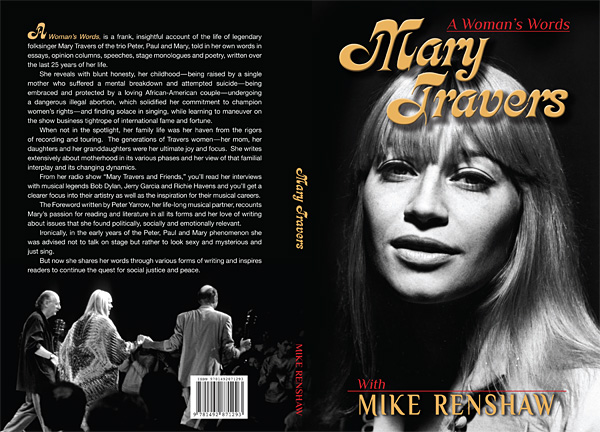 This is a biography of the late Mary Travers of Peter, Paul and Mary from her lifetime of writing...from opinion columns, essays, speeches, monologues and poetry...all written by Mary Travers, compiled to tell her life's story. It includes her interviews with Bob Dylan, Jerry Garcia and Richie Havens.

Now available at Amazon.com

January 27, 2013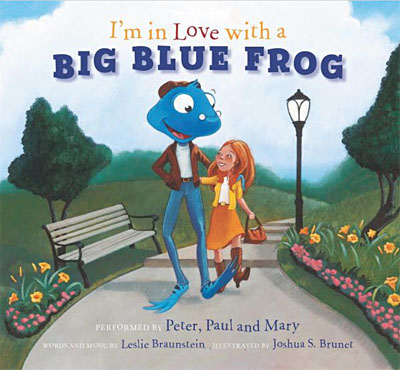 available from:
November 15, 2012

Peter Paul and Mary
LIVE IN JAPAN, 1967
Deluxe Edition

A special 2 CD release which includes not only the original In Japan release but a second CD of unreleased material from that concert.
Release date December 11th, 2012,
Available for pre-order from amazon.com now!
For more information on this release - click here.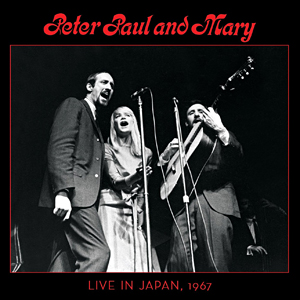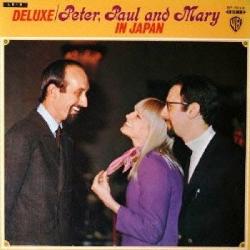 available from:
August 2, 2012

Japan releases coming September 5th
As part of the PP&M 50th anniversary celebration, Warner Bros. (Japan) is releasing a special series of CD's. The CD sleeves are miniatures of the original LP sleeves.
"Live In Japan" is being released on CD for the first time. The 11 titles being released with the special limited edition sleeves are: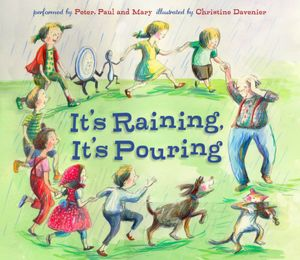 updated

JULY 30, 2012

Event Dates for

IT'S RAINING, IT'S POURING


(available now from amazon)

Thursday, July 26th – Boonton, New Jersey

Bobby's News & Gifts – Boonton, New Jersey – 7:00 pm
521 Main Street Boonton, NJ 07005
Contact:(973) 794-4470

Friday, July 27th – Chautauqua, New York

Chautauqua Book Store – Chautauqua, New York – 1:00 pm
67 Bestor Plaza Chautauqua, New York 14722
Contact: (716) 357-2151

Saturday, July 28th – Brockport, New York

Lift Bridge Book Shop – Brockport, New York – 2:00 pm
45 Main Street Brockport, NY 14420
Contact: (585)-637-2260

Monday, July 30th – Sewickley, Pennsylvania

Penguin Bookshop – Sewickley, Pennsylvania – 1:00 pm
420 Beaver Street Sewickly, PA 15143
Contact: (412) 741-3838
*PETER YARROW ONLY*

Wednesday, August 1st – New York City, NY

McNally Jackson Booksellers – 4:00pm
52 Prince Street, New York, NY, 10012
Contact: (212) 274-1160
*PETER YARROW ONLY*

Thursday, August 2nd – Madison, Connecticut

First Congregational Church @ Hubley Hall – Madison, Connecticut – 4:00 pm
26 Meetinghouse Lane Madison, CT 06443
Contact: (203) 245-3959
*PETER YARROW ONLY*

Friday, August 3rd – South Hadley, Massachusetts

Kidder Hall @ All Saints' Episcopal Church – South Hadley, Massachusetts – 4:00 pm
7 Woodbridge Street South Hadley, MA 01075
Contact: (413) 534-7307
*PETER YARROW ONLY*

UPDATE June 22, 2012
It's Raining, It's Pouring will be available early! New publishing date is July 1, 2012. Order your copy now from Barnes & Noble
January 2012

It's Raining, It's Pouring: Celebrity Songbook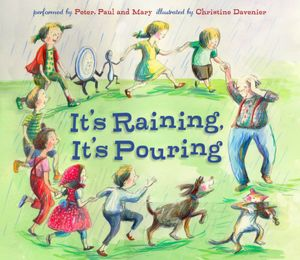 It's raining, it's pouring,
The old man is snoring.
Bumped his head, and he went to bed,
And couldn't get up in the mornin'.
One of the most beloved children's songs gets a rollicking picture book treatment—and a gorgeous musical interpretation by the beloved trio Peter, Paul & Mary. Featuring witty and whimsical art by the renowned illustrator Christine Davenier, this stunning new book offers plenty of fun, whether it's raining or not.
When the rain pours down, a family full of children decides to play hide-and seek. Even as they scurry into the corners and cubbies and crevices of their house, one little girl cuddles up with Grandpa—the "old man who bumped his head"—and reads to him from her favorite book to help him feel better. Davenier's sweet and endearing art enhances the fun and fantasy of Peter, Paul & Mary's charming new arrangement of the tune. Here, the sweet nursery rhyme takes imaginative flight as a cow jumps over the moon, Granddad flies to the stars, and familiar characters like Jack and Jill appear. At the end, when the game is over and the rain, rain has gone away, the entire family gathers around Grandpa in a happy, loving group.
Complete with a CD featuring Peter, Paul & Mary's marvelous version of the title song, along with Peter singing "Believe Town" and Noel Paul Stookey performing "Glory of Love," this beautiful picture book is perfect for rainy days, bedtime, or any time.
PETER, PAUL & MARY became famous for their ability to convey powerful, personal, and political messages through a repertoire of songs that resonated with millions of Americans in the 1960s. Their debut album, released in 1962, remained in the Top 10 for ten months, and the Top 20 for two years. Their first hit single, "Lemon Tree," was swiftly followed by "If I Had a Hammer," which became an anthem of the Civil Rights movement and was performed by the trio at the 1963 March on Washington where Dr. Martin Luther King, Jr. delivered his legendary "I Have a Dream" speech. Their classic song, "Puff, the Magic Dragon," has been a favorite of children for almost fifty years, and the book version was a number one best seller.
Over a span of more than fifty years, Peter, Paul & Mary touched the lives and hearts of tens of millions of people, won five Grammy Awards, produced thirteen Top 40 hits, and received eight gold and five platinum albums.
Paris-born artist CHRISTINE DAVENIER has illustrated many children's books, including the best-selling The Very Fairy Princess, written by Julie Andrews and Emma Walton Harrison; The First Thing My Mama Told Me by Susan Marie Swanson, for which she won a New York Times Book Review Best Illustrated Children's Book of the Year Award and a Charlotte Zolotow Award honor book. The many notable authors whose works she illustrated include Norma Fox Mazer, Madeleine L'Engle, Jack Prelutsky, and Judith Viorst. The Bulletin of the Center of Children's Books praised her work, noting that: "Sometimes illustrators take us to new worlds; sometimes they make us see our own familiar world anew. Christine Davenier gives daily life a freshness and genuine élan that you only hope the world outside her books can match."
The Night Before Christmas

By Clement C. Moore
Illustrated by Eric Puybaret
Performed by Peter, Paul and Mary

BOOK TOUR

Saturday, December 3rd
(Peter & Noel)
Manchester Ctr, VT

Northshire Bookstore –3pm
4869 Main Street
Manchester Ctr, Vermont 05255
Phone (802) 362-3536



Wednesday, December 7th
(Peter & Noel)
Northvale, NJ

Books and Greetings – 7pm
Northvale Shopping Center
271 Livingston Street
Northvale, NJ 07674
Phone (201) 784-2665



Thursday, December 8th
(Peter & Noel)
New York, NY

Barnes & Noble – 4pm
150 East 86th Street
New York, NY
Phone (212) 633-4082


Saturday, December 10th
(Peter & Noel)
Mendham, NJ

Mendham Books – 2pm
84 E Main St
Mendham, NJ 07945
Phone (973) 543-4949



Sunday, December 11th
(Peter)
Rhinebeck, NY

Oblong Books & Music– 4pm
6422 Montgomery St.,
Suite 6
Rhinebeck, NY 12572
Phone (845) 876-0500



Friday, December 16th
(Noel)
Belfast, ME

Mr. Paperback– 4pm
Reny's Plaza
1 F Belmont Ave
Belfast, ME 04915
Phone (207)338-2735

November 2011






click the picture for a sneak peek

available now from
BARNES & NOBLE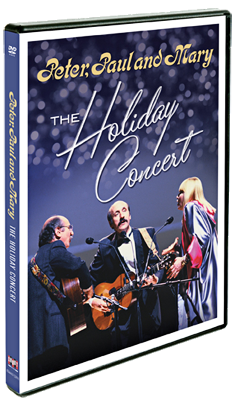 September 2011
Holiday Concert on DVD
Music News Nashville
by Dan Harr
What began in 1981 as a benefit for the New York Choral Society has now become a decades-long holiday music tradition. Peter, Paul and Mary's legendary Holiday Concert makes its DVD debut October 18, 2011 from Shout! Factory. Long anticipated by fans, the concert was only available on VHS and is currently out of print.
The live concert features a symphony orchestra and a 200-voice chorus performing a mixture of the group's iconic folk classics such as "Puff, The Magic Dragon," Christmas and Hanukkah songs and carols as well as traditional spirituals and holiday songs. A longtime holiday family favorite, the DVD is a must have for fans of the trio and DVD collectors alike. .... Click here for the rest of the article.
Available from AMAZON: click here!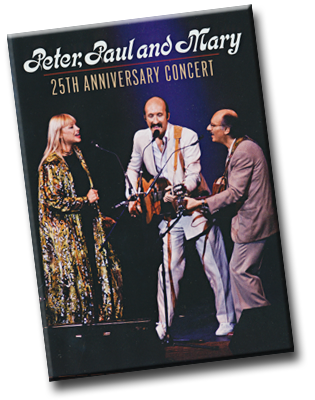 July 2011
25th Anniversary Concert on DVD
In 1986 the legendary Peter, Paul and Mary marked their 25th anniversary with the taping of their first PBS TV special. Now, two and a half decades later, in celebration of the 50th anniversary of the formation of the group in the famed Greenwich Village, this joyous yet deeply moving live concert is being first released on DVD.

"If I Had A Hammer ""Puff, The Magic Dragon," "Blowin' In The Wind" and "Leaving On A Jet Plane," as well other songs that became classics, resonate with the trio's openness, genuine warmth and passionate conviction. This formidable legacy has made this trio and its music a true and enduring national treasure
Available from AMAZON: click here!
Program Listing

1. Such Is Love
2. I m In Love With A Big Blue Frog
3. Puff, The Magic Dragon
4. Right Field
5. Where Have All The Flowers Gone?
6. El Salvador
7. Like The First Time
8. Kisses Sweeter Than Wine
9. Wedding Song (There Is Love)

10. Weave Me The Sunshine
11. Greenwood
12. Light One Candle
13. Leaving On A Jet Plane
14. If I Had A Hammer
15. Greenland Whale Fisheries
16. Power
17. Blowin In The Wind
18. This Land Is Your Land
19. Goodnight, Irene
OCTOBER 2010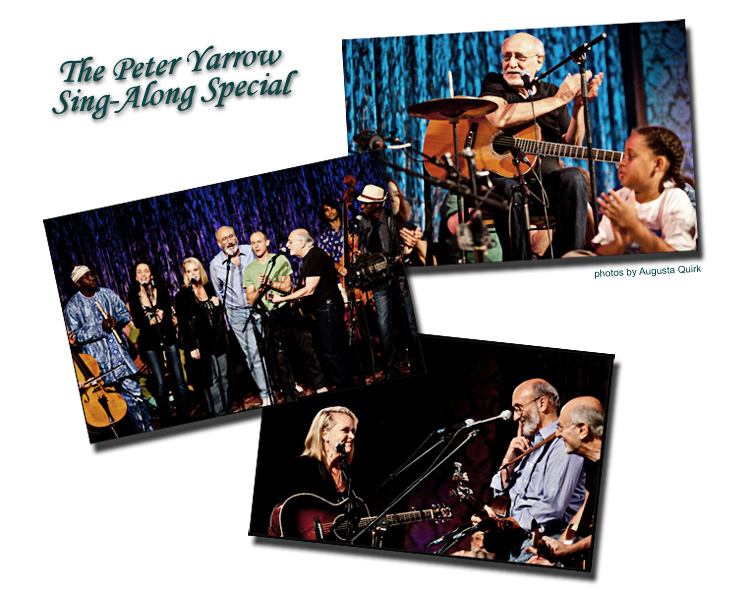 A family celebration of America's favorite Folk songs performed by some of America's most beloved folk singers. Starring Peter Yarrow and Noel Paul Stookey of Peter, Paul & Mary, Mary Chapin Carpenter, Keb Mo, Billy Jonas, and Bethany & Rufus, this concert will inspire and lift the spirit of the whole family.
A PBS SPECIAL- check your local PBS schedule for broadcast dates.
Dec. 2009
We are proud to announce that we're preparing a celebration of Peter, Paul and Mary's 50th Anniversary.

Part of this celebration will include a photographic tribute.

We're reaching out to the website and beyond as we look for intriguing, iconic photos, or photos that reveal an intimate sense of the spirit or idiosyncratic personalities of the members of the trio, together or singly, that might paint an intimate, as well as the more "public image" portrait.

We are especially interested in shots taken prior to 1995, and very eager to find shots from political or human rights benefits, marches, rallies or concerts for grass roots leaders, electoral candidates, or movement efforts we were supporting (Ex. El Salvadorian Sanctuary Movement in the U.S., United Farm Workers, Peace Movement, Women's Movement, PPM arrested at South African Embassy and Anti-Apartheid Movement, Earth Day etc.

If you think you have something special, please send it preferably by email--it might be included! . Email us your photo if possible. (Please send hi- or medium-resolution photos and if we need higher-res for some reason, we'll make that request , with our thanks.) Hard copy prints will NOT be returned, so please do not send us the original of your photo. You may send a duplicate print of the photo, a scanned picture (unnecessary to be top scanning quality), or use your digital camera to take a picture of the picture or even make a copy on a copy machine. Email it or mail it as you wish. If we choose your photo we will make arrangements to borrow the original.

Please email to: charlesnurnberg@imaginebks.com
or mail to:
Charles Nurnberg
25 Whitman Road
Morganville, NJ 07751